I have had some requests after I posted photos of my bedroom during the holidays asking "how did I approach putting together my bedroom and my linen choices. First, and most importantly, there is no one correct way, but perhaps I can offer some suggestions about how you can approach the decision making process. So what makes your bedroom choices all come together? Do I choose wall paint colors first? Do I pick linens first? How many pillows? Should you use only white sheets? Rug, wall to wall or hardwoods? These are the kinds of questions I am emailed about frequently.
This is going to be a 2 part post. Today, let's look at before and afters so you can see how small and sometimes big changes can make a bedroom into a place you really will enjoy retreating to. Then in part 2 we will go into detail about layering the bed itself.
There are multiple ways to begin the process depending on how extensive your approach is going to be. This is how I would start. I would ask myself a few questions. Do I already like the paint color on the walls? If the answer is yes, then that is where I start. Am I going to use the same furniture? If not, and going new, then is that my starting point? Do I have a piece of art that can be my inspiration? Sometimes you fall in love with linens, either the pattern or color or texture, and that can be the starting point; then I would probably find a quilt, duvet or cover as an inspiration point. If you already have a wall color and art in the room, and you don't want to change them out, then make sure they are part of your decision making process, as are lamp shade colors, rug/carpet colors, etc. If you are not in love with your furniture, consider painting it, or changing it out for just a headboard if budget is an issue. Or as you will see below, there are ways to go without a headboard. Also ask yourself, could the room be improved by the addition of some architectural details – crown molding, beams, ship lap, bead board, trim. Are you open to painting the ceiling a different color than white?
Before and afters are a good way to illustrate the myriad ways of approaching designing or decorating a room. Some of these are easier to achieve than others, but each might trigger a "can do" moment. Don't you just love before's and afters?
---
---
---
---
---
---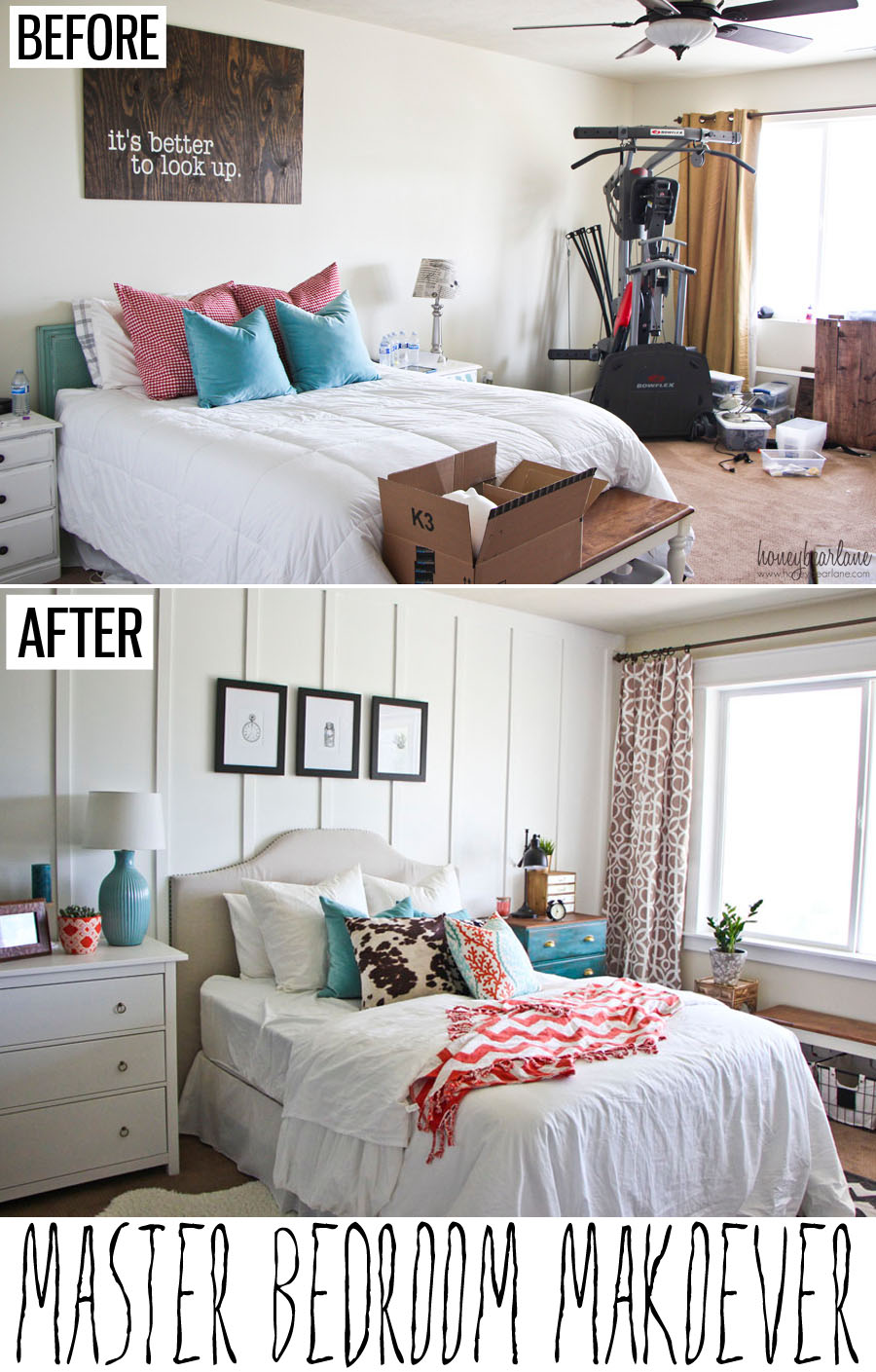 One of the first things you want to do when thinking about a redesign for your bedroom is to really put some thought into how it is going to be used. A bedroom can be multi functional is necessary, but your primary goal should be a room for sleep and relaxation. This before bedroom appears to have become a catch all room. They removed the exercise equipment and the first improvement was to board and batten the wall. This added a cottage feel and texture, and even though the wall was painted white, adds warmth. Also the substitution of orange for red, is a much nicer color choice. The patterns in the textiles work well together, and the drapery hung higher than in the before does make the room feel slightly taller.    source
---
---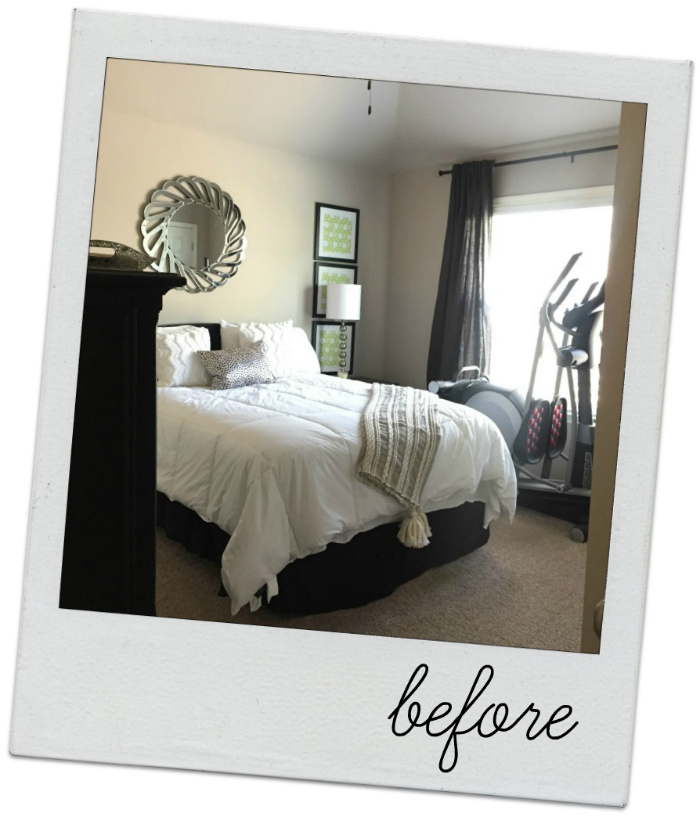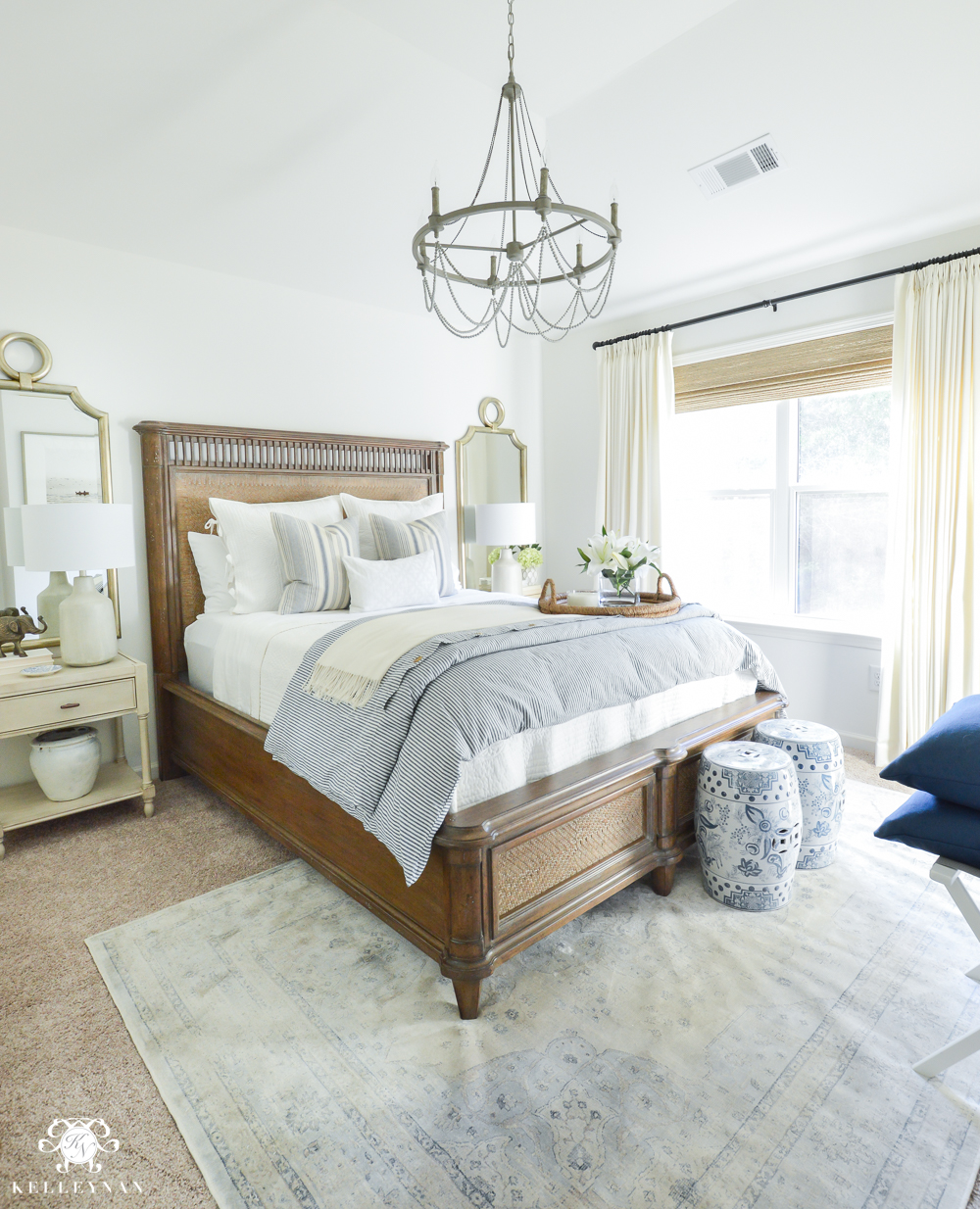 Here we see a really lovely transformation, where again we see a guest room that by her own admission was a catchall. I can't tell you how once a piece of exercise equipment enters a bedroom, it seems that a psychological change happens, and one feels it easier to use it for just about any storage need. The room was transformed using southern and nautical inspiration.   I love using mirrors behind lamps on bedside tables. Especially if the room is a smaller size, which guest bedrooms often are, it reflects light. Just make sure the mirrors are to scale for the size of the nightstand and the room itself. I think that the chandelier replaced a fan. I live in the south, and although I would prefer an overhead fixture, a fan is a necessity, even when a home is A/C'd. Personal preference, but especially if you have higher ceilings, fans make a huge difference in both comfort and in energy bills. Today there are lots of terrific fans and fan light combos.               source
---
---
Plain Jane room converted to a space that offers comfort and storage and style. It was a bold move to add bead board to the ceiling as well as beams, but it adds so much warmth and interest. Ship lap walls attached horizontally and painted a dark color adds more visual interest as well as a warm cozy look. The neutral sisal carpet adds additional texture. The chandelier is the perfect size.  The painted armoire units added to each side of the bed offer lots of storage. The sconce is easily adjusted for reading of ambient lighting. The toile drapes add pattern and I think I might have added another bed pillow with some pattern as well.PHOTOGRAPHY BY JENNA SUE DESIGN                             source
---
---
Guest rooms and kids rooms are chances to be fearless. Here plain bright white walls allow the textiles to shine, adding tons of color, texture and fun in a minimalist approach. This room shows that you don't have to have lots of furniture, or art even, to make a bedroom welcoming and stylish. photograph and room by Tessa Neustadt via Amber Interiors. source
---
---
Here is another bedroom by Amber Interiors with a modernist approach. Clean white walls and beautiful textiles with a blue colorway pulled from the art above the bed. Notice in this case, white really makes the room feel larger.
---
---
The board and batten treatment to the one wall makes a dramatic difference in this room. There was no headboard in the before, and none in the after, but the wall adds architectural dimension so that it hardly makes a difference. A lighter wall color, new Roman shades and pillows give this small bedroom a sophisticated look. A tufted bench at the end of the bed adds a designer look and some texture and the fabric color echoes the mirror and carpet, making for a cohesive look. The touch of black on the shades and in the one pillow adds definite elegance to this small room.
---
---
I am seeing wallpaper in bedrooms quite a lot lately, and not your grandma's wallpaper either. Here a large, bold floral on just one wall completely changes the room and provides all the color inspiration one needs. The headboard remains. Elegant and sophisticated, this bedroom has it all.  A new chandelier, carpet, nightstands and window treatments complete the look.                      source
---
---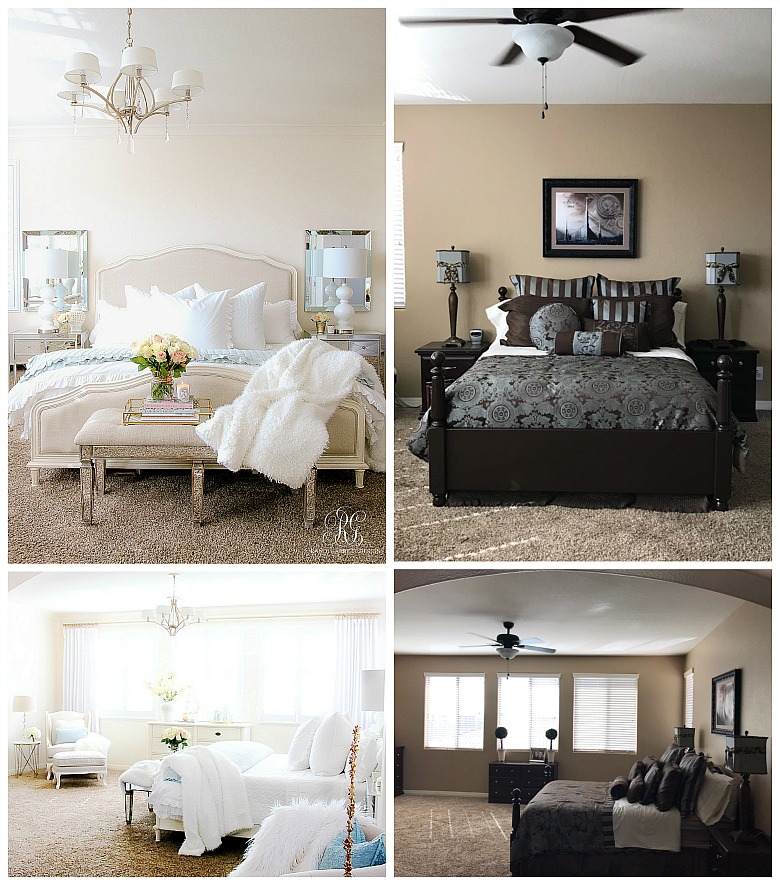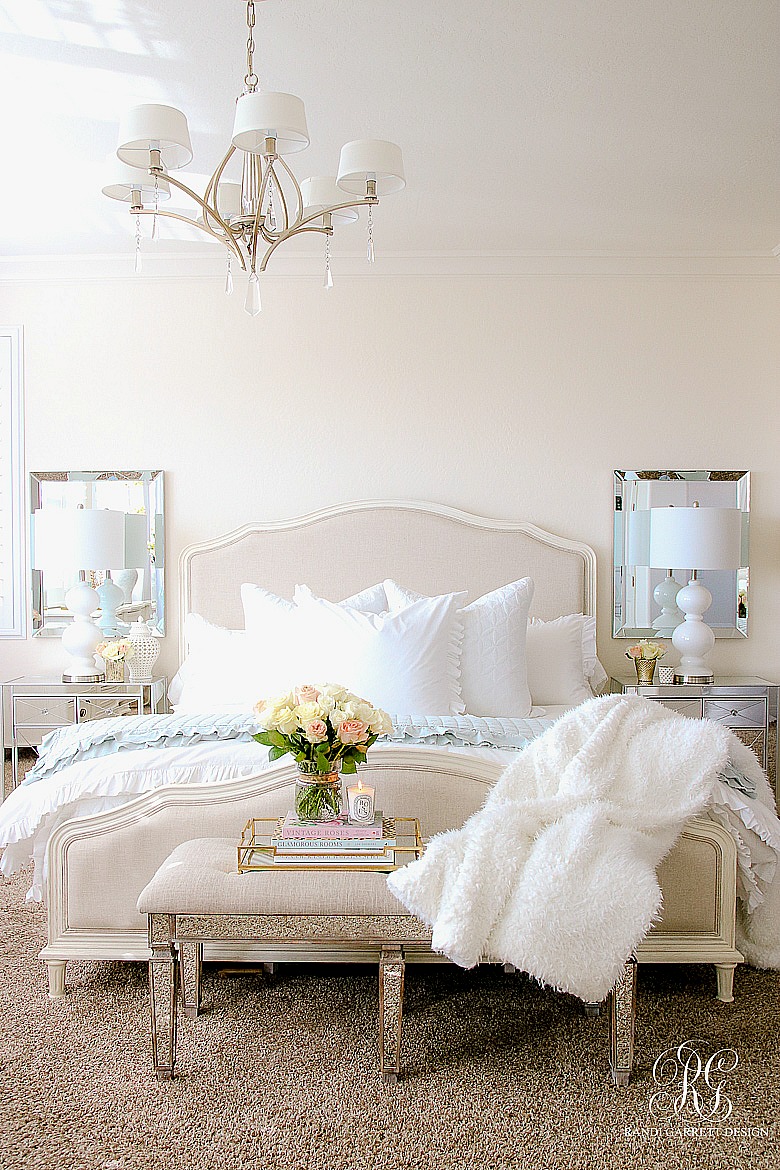 This is quite a transformation, from dark and a bit outdated to bright and classic. It began with the purchase of a new bed for this master bedroom, and from there it went to wow.  There is texture, mirrored surfaces and clean lines, a mix of traditional and modern. I am not a fan of shag carpet, it was already there, but I have to admit to liking it in this case.              source
---
---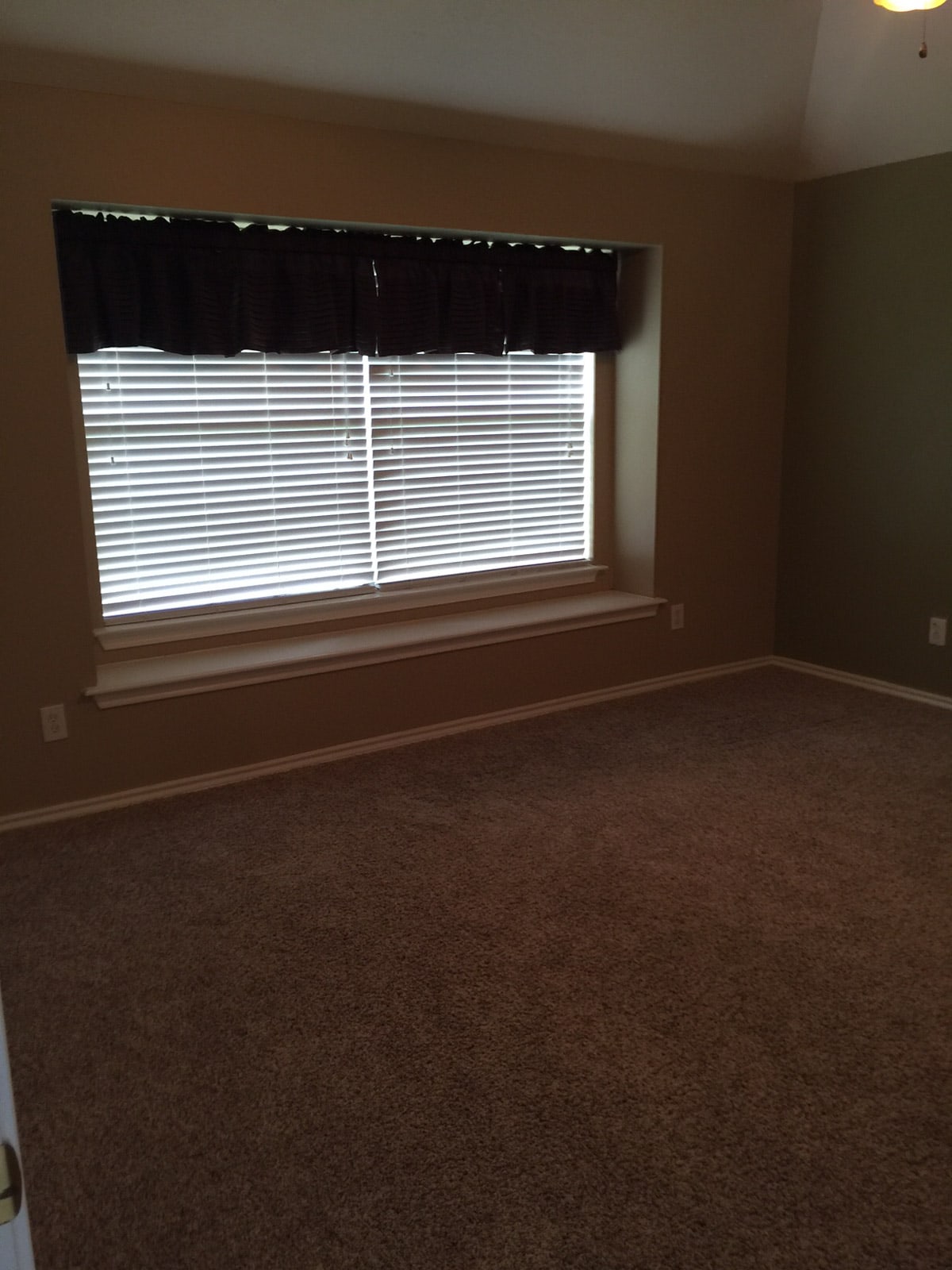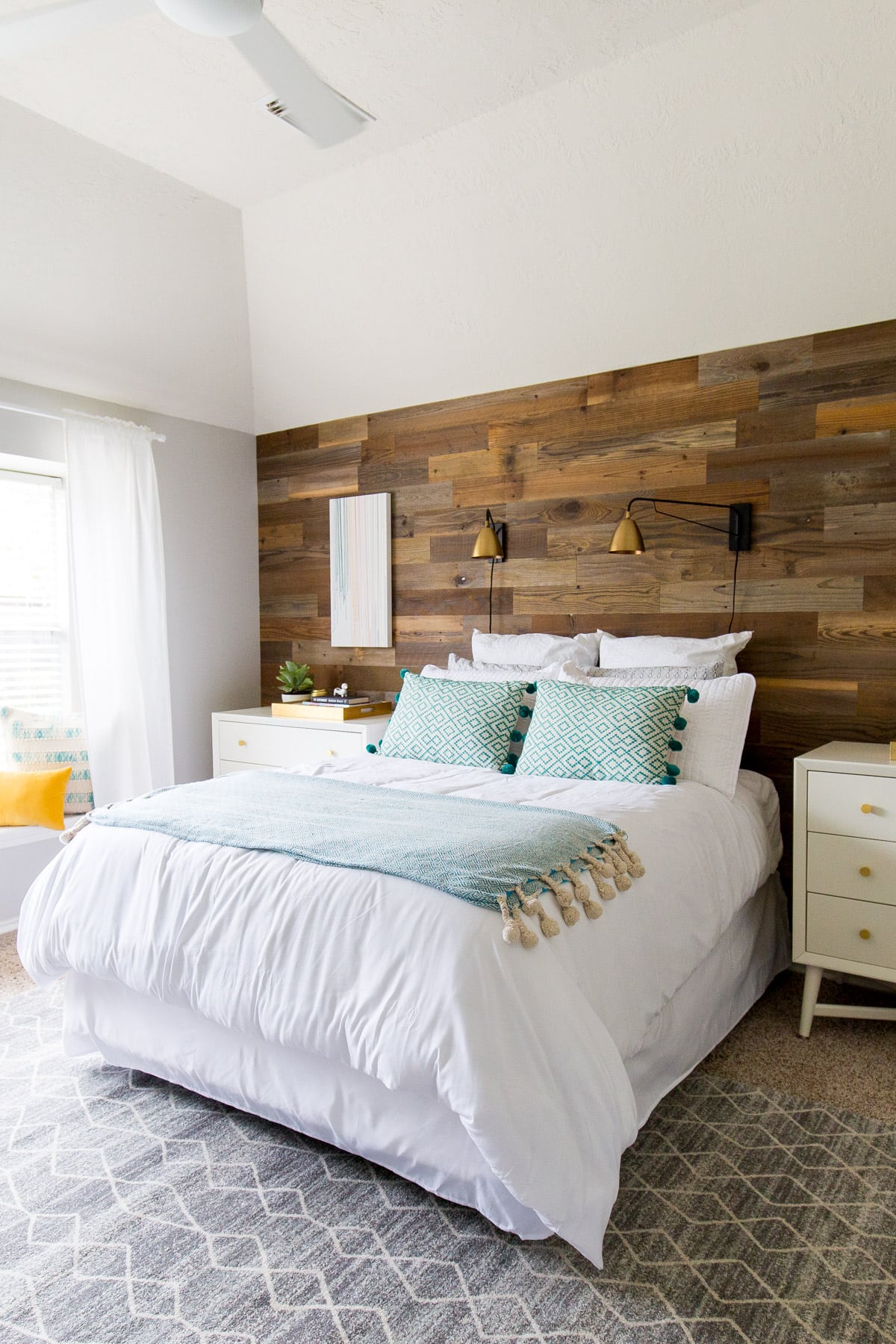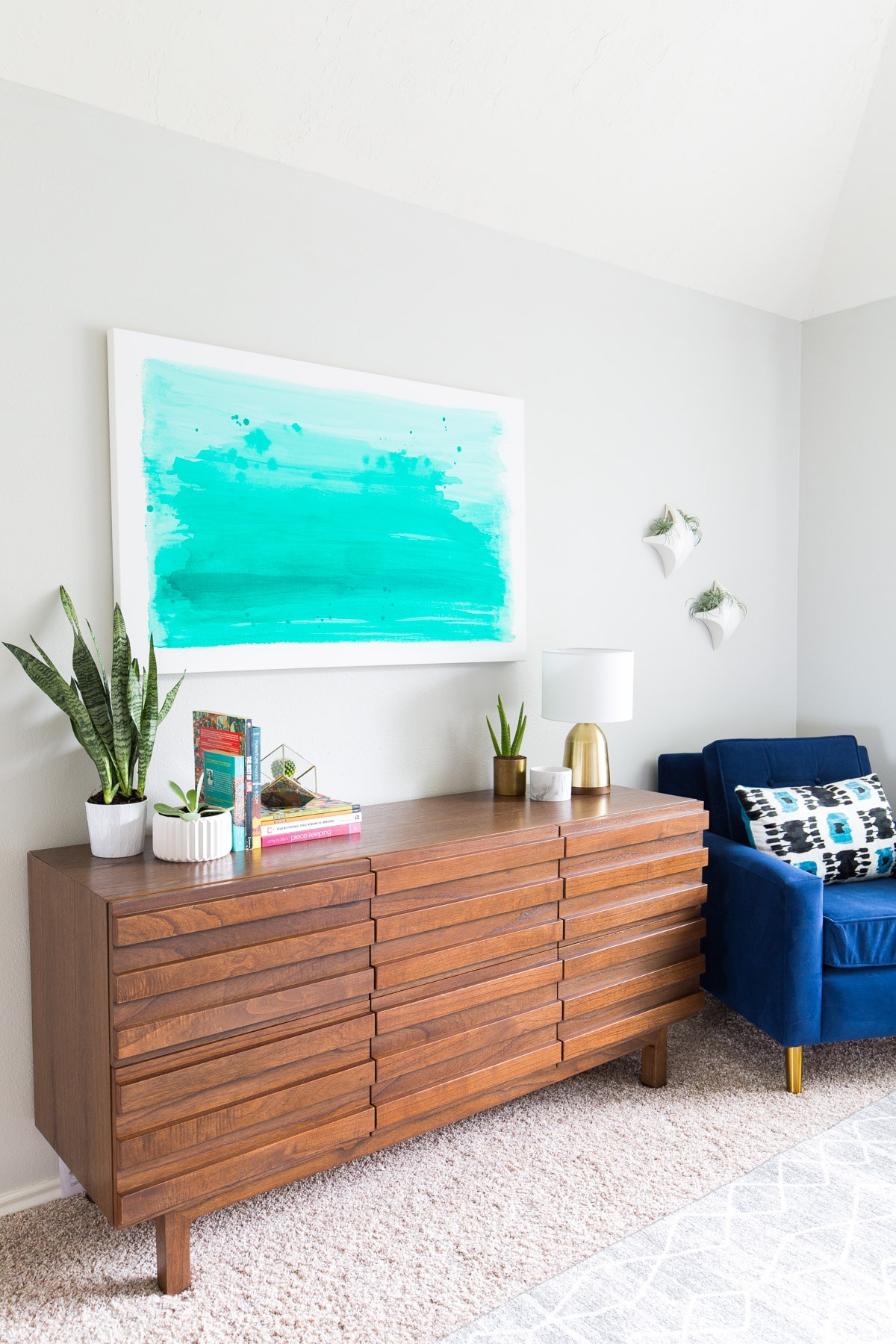 Start with a very dark room, and kick it up a few notches and you end up with this bedroom for a newlywed couple. The original carpet remained, the walls were painted a light gray and using stikwood  for one wall, which also does double duty as a headboard, you have added instant interest, texture and a bit of rustic to balance the mid century modern. What's not to like? Layering a patterned  carpet on top of wall to wall is one way to add additional color or pattern. The bed linens relate back to the art on the opposite wall.                source
---
---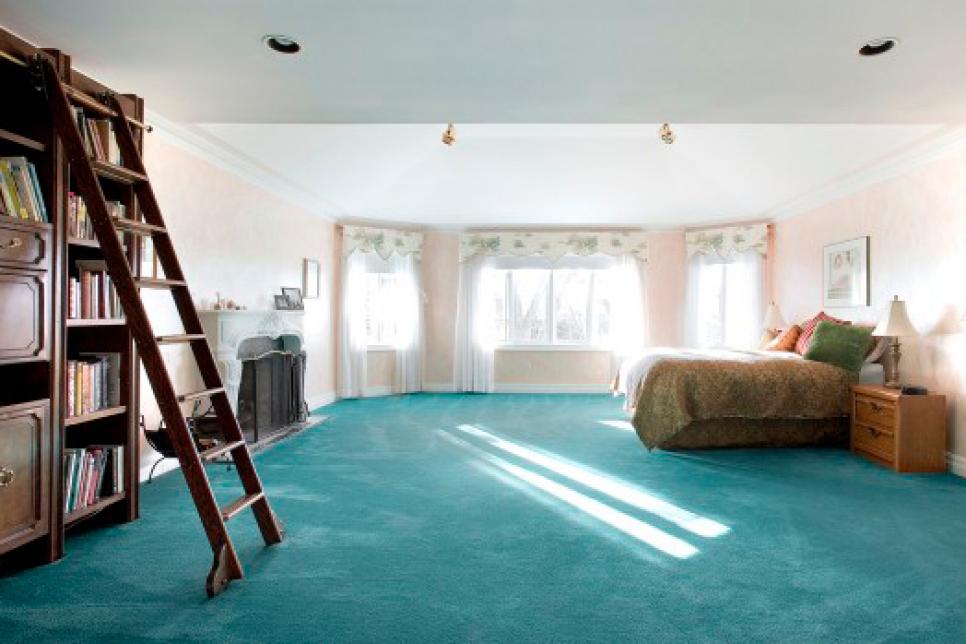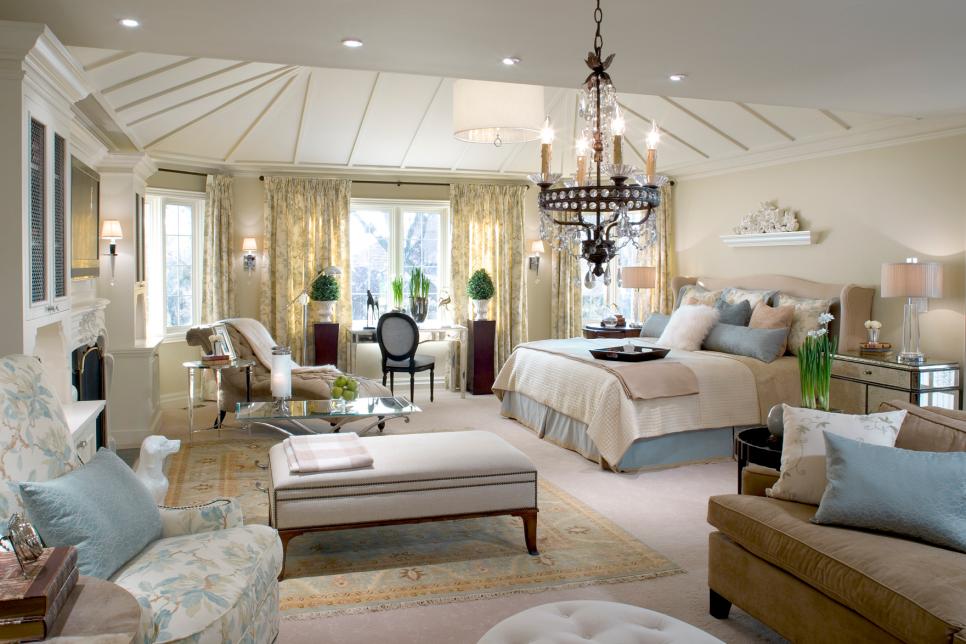 In a major redo, Candace Olsen created not just a bedroom, but an amazing retreat for sleeping or relaxing. The room includes space for a desk, and a sitting area. Very large bedrooms like this one can be challenging to decorate so that it feels inviting. She achieved this by using a large area carpet to break up the massive amount of floor space, instantly creating separate visual spaces. Using neutrals throughout,  muted florals and solids, the room appears cohesive. One of the biggest changes to the room was the addition of a trey ceiling. It could have made the room feel even larger and cold, but by adding architectural details with trim, it gives the room much needed dimension and drama. The different ceiling lights further delineate the different functional spaces. source
---
---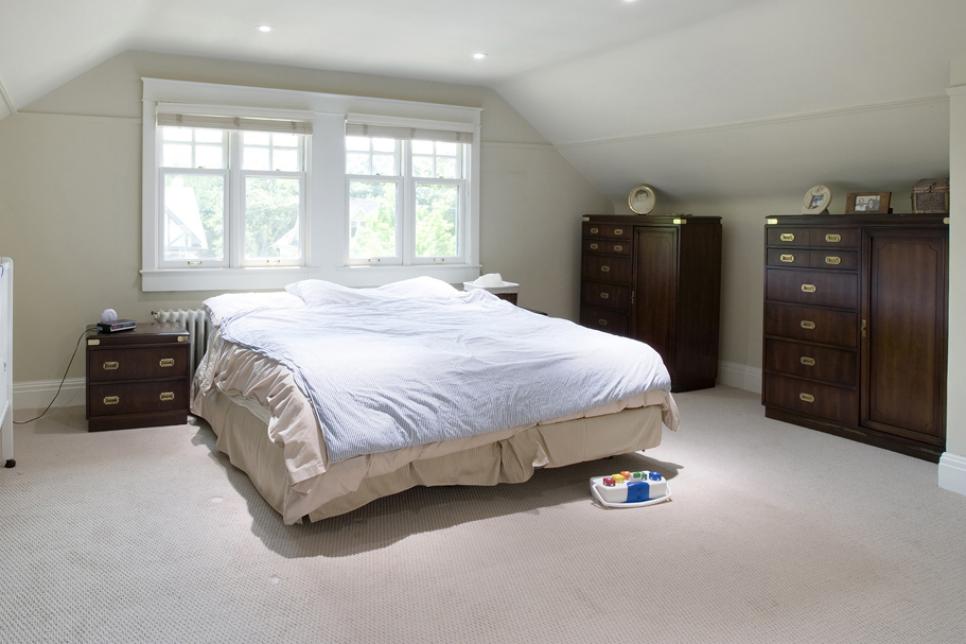 In this bedroom, designed for busy parents, what could have been negatives were turned into positives by smart design choices. Sloped ceilings can be really challenging, but by moving the bed to a different wall, and constructing builtins to house storage and a TV on an opposite wall, the architectural limitations become an after thought. The ugly radiators you can see behind the bed above, got custom radiator covers that serve double duty as a place to some decor items as well as adding texture and detail. The addition of two beautifully styled chairs creates a true sanctuary. By keeping the room monochromatic, it takes on a feeling of appearing larger than the before room does. This also again illustrates  the layering of carpet on carpet, and how it makes the room more sophisticated. Notice how the Roman shades are the same wood tone as the antique bench at the base of the bed, and the feet on the chairs to keep the room from becoming too plain and colorless.     source
---
So what is the take away? There needs to be a plan! Budget. Style. Color palette. Furniture. Art. Carpet. Window treatment. Storage considerations. Make lists, organize the list according to what is most important to you. Success is in the details. If you have any questions or comments about the process, send me an email or comment. Part 2 will be all about linens, and "dressing the bed".
I am an official Olympic junkie. I needed that time off to simply enjoy them. Unfortunately after that my beloved dog Whitley suddenly developed IMHA, the 4 letters you never want to hear as a dog owner. Actually she has Evans Syndrome, which is IMHA (Immune mediated hemolytic anemia) and Thrombocytopenia (no platelets). The mortality rate is 50% for IMHA, more for Evans. The triggers can be vaccination, infection, tick borne disease, or unknown. She was at death's door. We decided to just bring her home and give her every chance to heal. I have become a voracious consumer of all things related to this. Her blood values are climbing except for her platelets. High doses of steroids make it challenging and create problems on their own. Anyway, it has been intensive care around here, force feeding by syringe, up at night, but hopefully this week her blood tests might be at a point where we can begin weaning her off the steroids. The risk then becomes relapse. Then the difficult choices. I adore this dog and choose to remain hopeful but realistic, with a whole lot of emotion going on in the in-between. I also owe you updates on the adventures of living with my late friends Newf. What a character!
While all this was going on, some time was taken to change my mail server. I am now with mail chimp and hopefully subscribing just became a whole lot easier and faster – just one step, and managing the subscriber list more manageable. That is why you might notice a slight change to the email you receive announcing a new post. It is a good thing. Some other additions will make the blog better as well, and I look forward to sharing them with you as well. until then…..laters, charisse
---
---
---
SaveSave
SaveSave
SaveSave
SaveSaveSaveSave
SaveSave
SaveSave
SaveSave
SaveSaveSaveSave
SaveSave
SaveSave
SaveSave
SaveSave
SaveSave
SaveSave
SaveSave
SaveSave
SaveSave
SaveSave
SaveSave